Most Popular Products
To add beauty and grace, our team of skilled artisans is involved in offering quality assured Dyed Spun Silk Yarn. This yarn is suitable for designing shawls, stoles and various other dresses. Our offered yarn is designed using high quality threads other materials obtained from trustworthy vendors of the market. This yarn is made available in a variety of sizes and textures as per the demands of clients. We carefully deliver this Dyed Spun Silk Yarn in suitable packaging to ensure secure transit.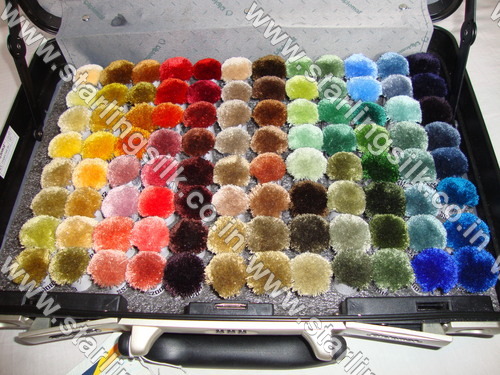 In order to satisfy the needs of clients, we are, engaged in manufacturing and...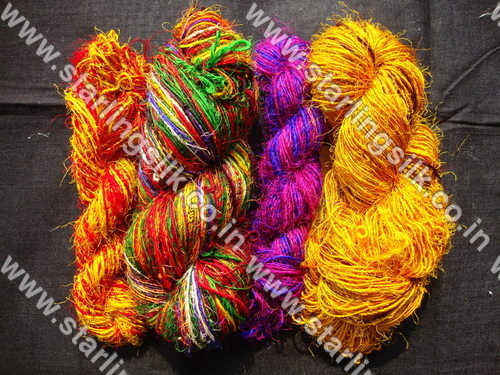 Extensively used to make saris, we offer our clients this Recycled Silk Yarn. The fabric is shredded down to the threads giving the yarn a rich luster and lavish gloss with a soft texture. It is an excellent yarn for all types of textile projects requiring rich, deep color and texture including weaving and braids, knitting and crochet and embellishment within quilts, patchwork and embroidery. Clients can avail this recycled yarn from us in different colors.
We offer Silk Yarn,Silk Wool Yarn and many more at most reasonable price.

About Us
In the world of SILK, "
Starling Silk Mills Pvt. Ltd.
" is a name to reckon with. Since its inception the company has carved a special niche in the market by serving the customers and global markets with excellent quality products. Technological capability and know-how are at the root of STARLING's reputation for innovation and quality in Silk Yarn. Thanks to its unique strength that has enabled the company to manage complete integration in the SILK value chain right from manufacturing silk cocoon to the development of final products. It guarantees reliable supply and consistent quality, as all the spun silk yarn made of Mulberry (Nistari, Biovoltine, Multivoltine) Tusha, Eri (Eco-Friendly) Muga silk cocoons are manufactured in-house.
Starling's Greenfield expansions and requisition has made it country's largest Silk Products Manufacturer with market share of more than 50%. We offer Matka Silk Yarn's (Uneven) category single and ply. In fact, its recent capacity expansion of 60 MT per year is the largest Matka Silk expansion of its kind in the world.
We are also known to be among the reputed
Silk Yarn, Silk Wool Yarn
Suppliers, Importers and Exporters from India. Quality is the factor that enables us in attaining maximum level of client satisfaction. All the Silk Products are offered in variety of colors, designs and patter in order to meet diverse needs of the clients. Furthermore, we keep our talented and hard working staff updated with the latest techniques and current market demands.
The company also given a permanent hospital infrastructure serving to the local BPL category and common people with an excellent Lab, x-ray and treatment facilities.
Core Business Values

Our business thrives on its strategic policies as well as core values. We are committed towards:
Ensuring customer gratification
Continuous innovation and quality up-scaling
Assuring honest deals
Accountability, sustainability and integrity